Our Dogs
"Until one has loved an animal, part of their soul remains unawakened"….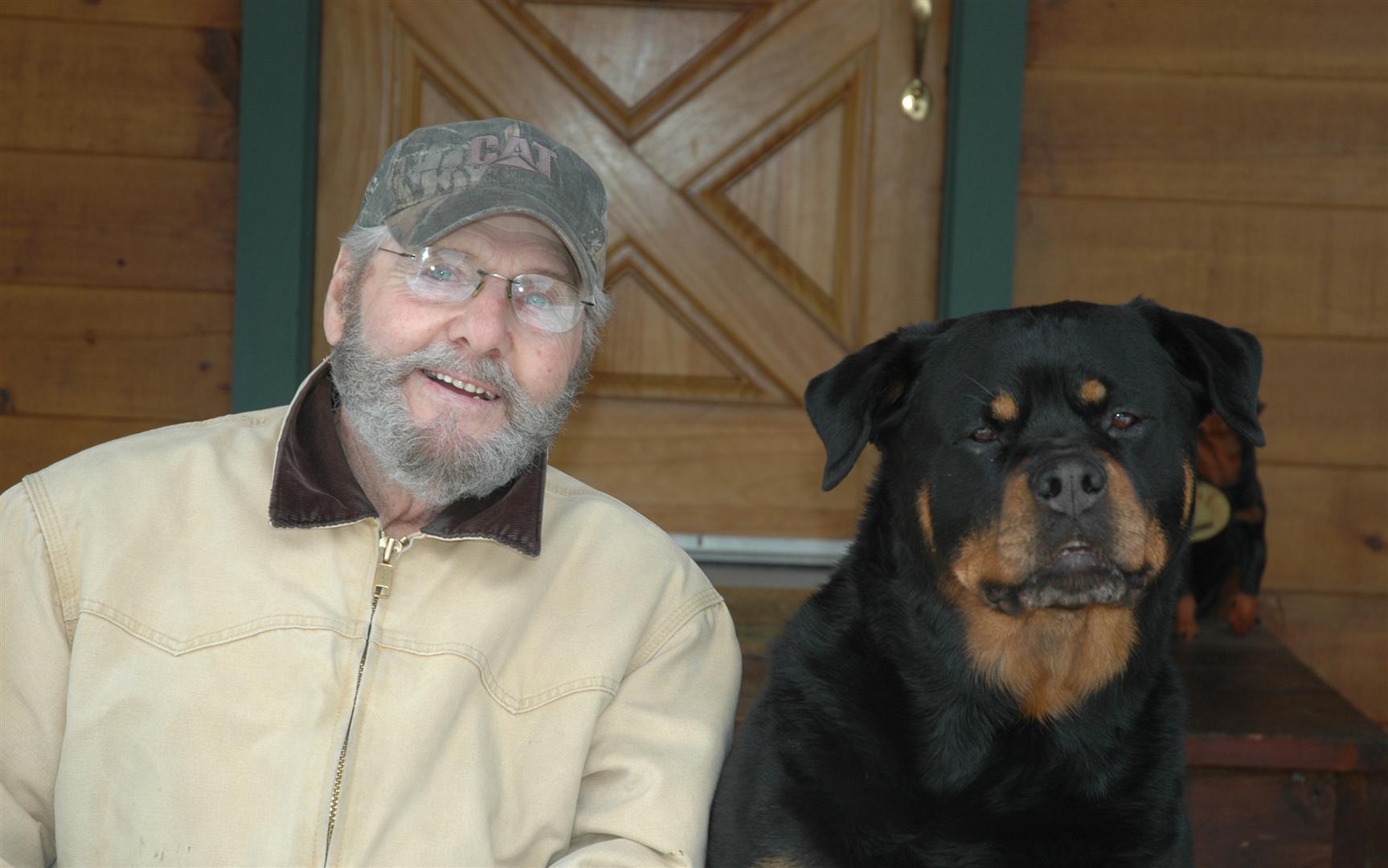 Marps and Boo – Best Buddies!
Boo passed April 14, 2017, just short of her 13th birthday

---
CH. Von Marc's Swingin' Single for Highwood, RE, Rally HIT, CGC
("Toto")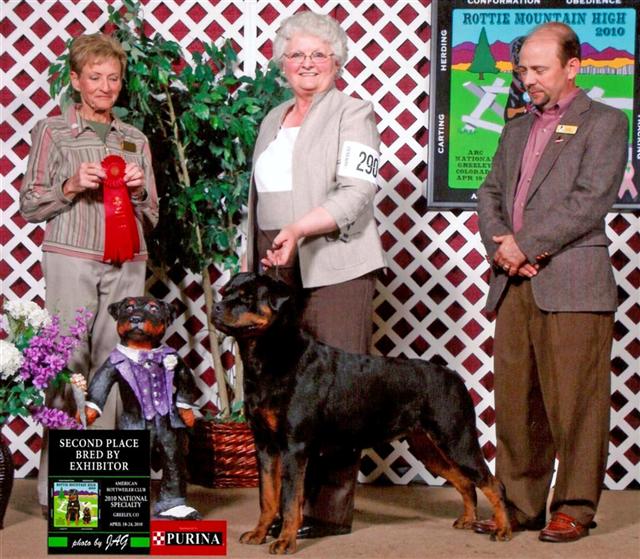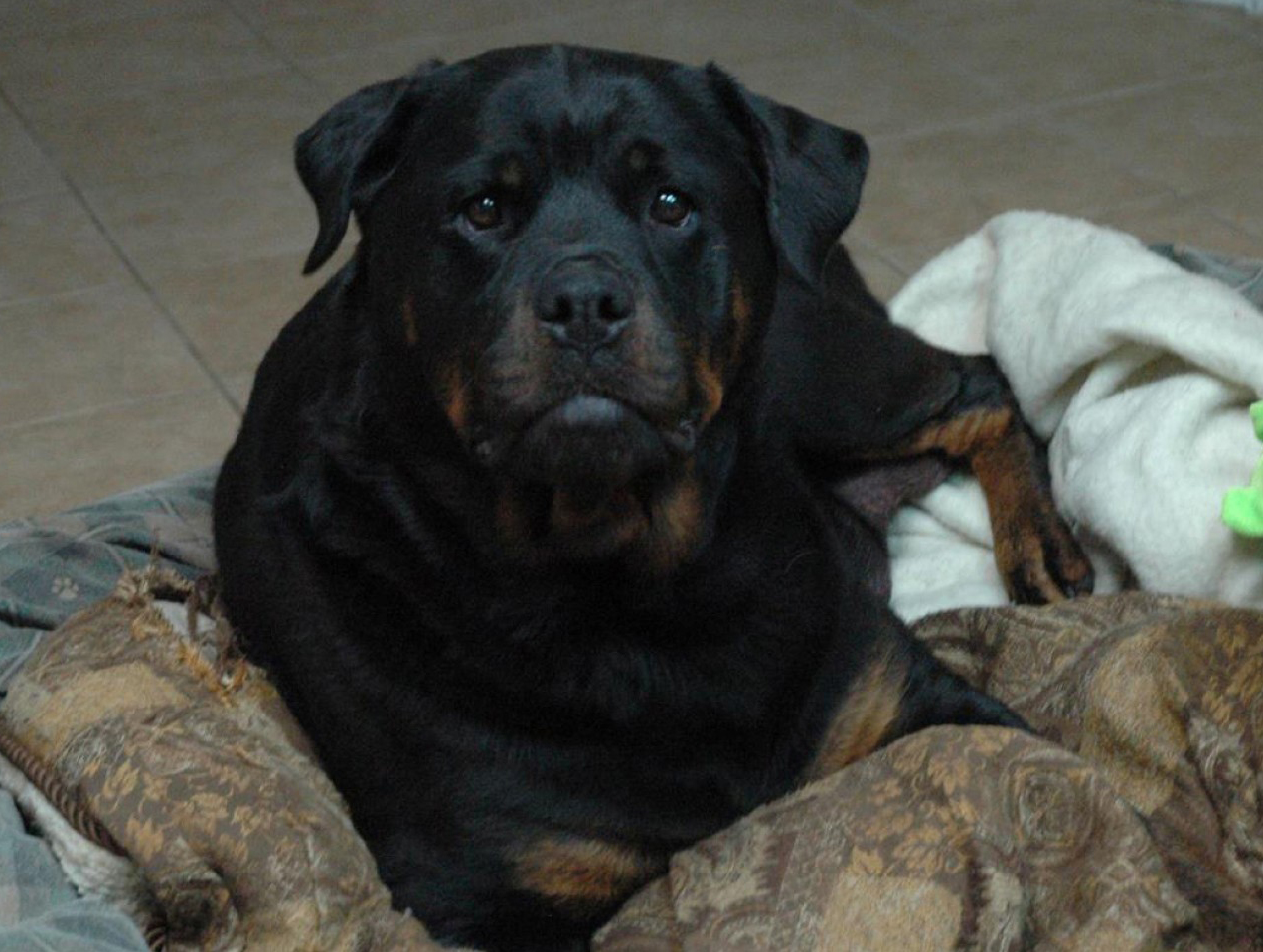 2010 Top Ten Rally Novice!
To see more of Toto, click here
2nd – Bred By Exhibitor Bitches – 2010 ARC National Specialty
High Scoring Rottweiler In Rally Trial ~ Albany, OR April, 2010!
CERF RO-7087/2010 November – 2010 RO-CA41511/24F/C-VPI    RO-71293G24F-VPI
RO-EL7917F24-VPI    CHIC # 69544    D.O.B. October 21, 2008    DNA tested "Clear" for long coat gene
Bred and owned by Von Marc
V-1 Multi BIS/Multi BISS AOM Ch. Nighthawk's Born For Highwood, RN, CD
x
BOSS/AOM/Multi AKC/CKC HIT Am/UCI Int'l Ch. Von Marc's Happi Hooker, Am/Can/UKC CD, RAE, CGC
---
Ch. Von Marc's B-Bop Bella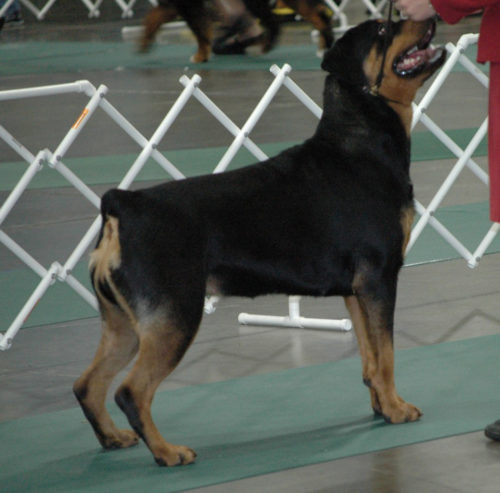 BIS/BISS/BOSS, Multi V-1/AOM, ARV Sieger, Am/Can Ch. Nighthawk's Quite The Man v Wyndhurst, BH, RE, BBT, TT, CGC, HIC
x
Multi BOSS, GCH. Von Marc's Quick Draw Eliza Jane, RN, CGC
CHIC #106160     RO-DE864/24F-VPI     RO-CA6742/24F/C-VPI-ECHO     RO-EYE892/24F-VPI
RO-75038E24F-VPI     Right elbow Grade 1, Left elbow Grade 2     DDC-101569  Long Coat Gene Clear     Whelped April 25, 2013

---
CH. Von Wertz's Hootchie Coochie Hattie Von Marc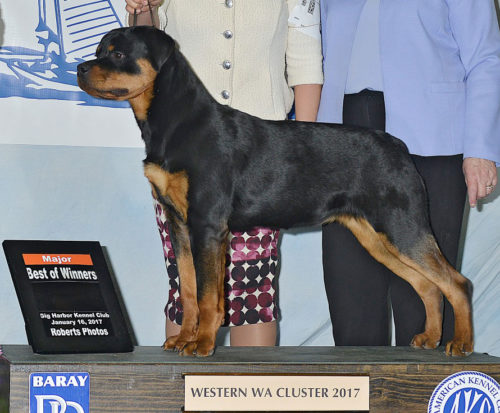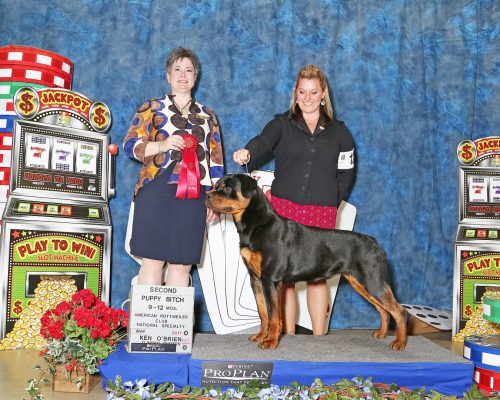 September, 2017 – Hattie is already half way to her Grand Championship!
May – 2017 – BIG Update! Hattie finishes her AKC CH at 12 months of age
with 3 four point majors and one three point major!
1st – 9-12 Puppy Bitches 2017 ARC National Specialty!
2nd – 9-12 Puppy Bitch Sweepstakes – 2017 ARC National Specialty!
3 and 4 Point majors at 8 months of age from the 6-9 puppy Class!
Multi BIS/Multi BISS/GChP Big Beach's Rhumba Man
x
Ch. Von Marc's Bravo Brea von Wertz, RN, CW-SP, CW-SD
Whelped May 23, 2016 ~ Bred by Liz Wertz & Jim Fogle
JLPP Clear, Eyes Clear, Prelim Heart Clear, Hip and Elbow Prelims look Great!

---
Mystic's Duchess Gabrielle of Von Marc


Gabby has three majors already!
European CH. Rex Timit Tor
x
Hera  Von Der Rott Hause Eric (AKC WS54256401 – Imported in whelp)
Whelped May 5, 2016 ~ Bred by Tammy Bortz
JLPP Clear   OFA Eyes Clear   Hip and Elbow Prelims look Great!

---