Von Marc's "L" Litter – Born February 17, 2020

Sire:   2021 ARC Select, Multi BIS/ Multi RBIS/Multi BISS/Multi BOSS, ARC Select, GCH-G Von Marc's Epic Ride v Birchcreek,
RA, FDC, DJ, CA, ATT, CGC, TKI
Dam:   Ch. Von Marc's I Wanna Be Loved By You, TKN, CGC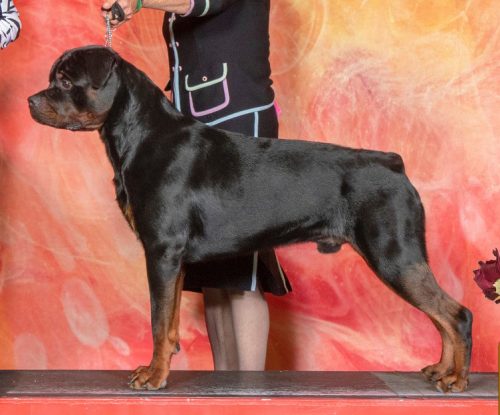 GCH Von Marc's Life In The Fast Lane, TKN, ATT, CGC "Dillon"
Owned by Kelly & Skip Skiptunas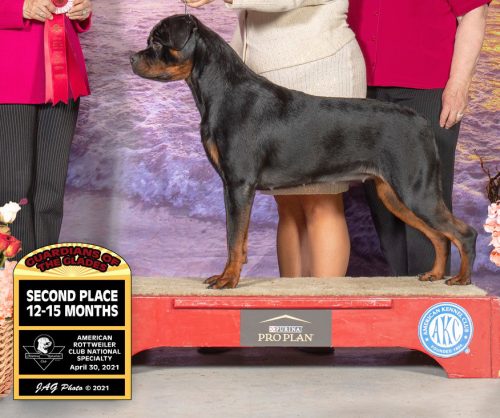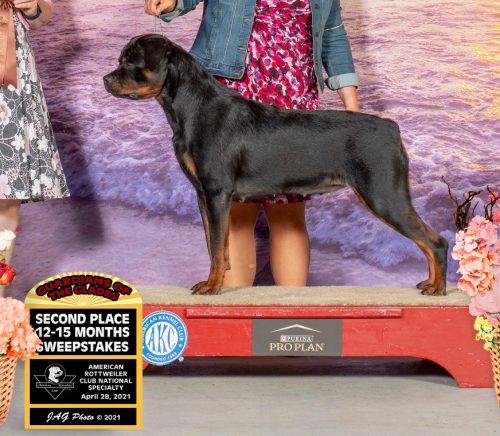 CH Von Marc's Love Me Like You Do v Liberty "Bia"
Owned by Katie Rose Cochran and Kyle Mukai

Von Marc's Luminous Beauty In The Night  "Layla"
Only one point needed to finish!    Owner-Handled!
Owned by Kevin & Melissa Ince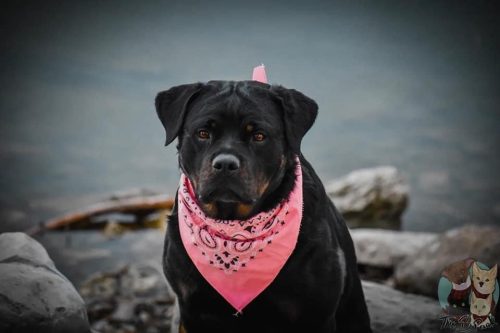 CH Von Marc's Little Miss Boujee  "Minnie"
Owned by Samantha Chinchilla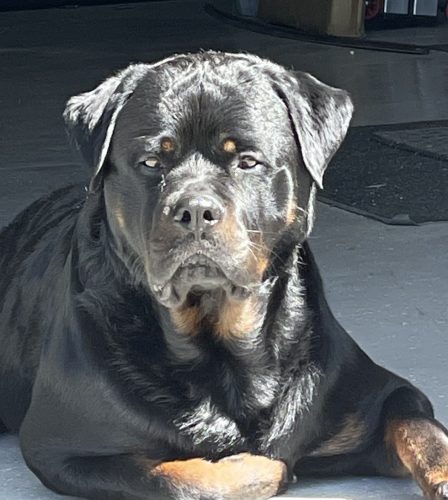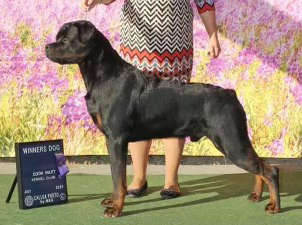 Von Marc's Locked And Loaded, BN, CGC, TKN, ATT  "Waylon"
Owned by Courtney Roe and Mike Aker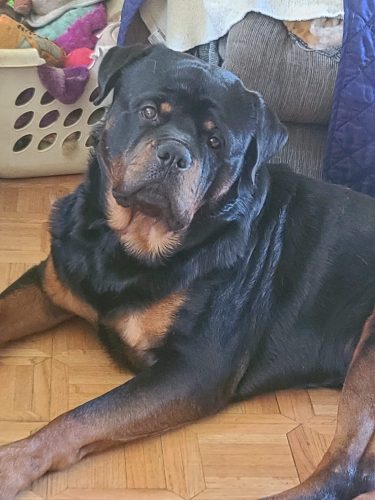 Von Marc's Lord Of The Glade, RN, TDI, CGCA, TKN, TKI, CGC  "RoRo"
Best of Breed from the Classes!
Owned by GiGi Couch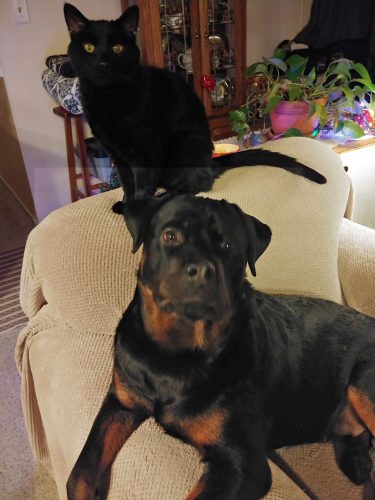 Von Marc's Little Loo La Roo  "Lulu"
Owned by Susie & Ray Phillips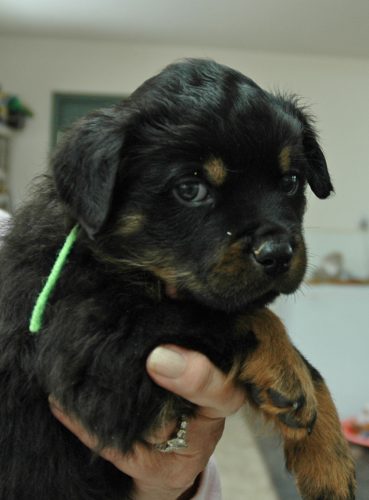 Von Marc's Let The Sparks Fly Axle  "Axle"
Owned by Sara Adams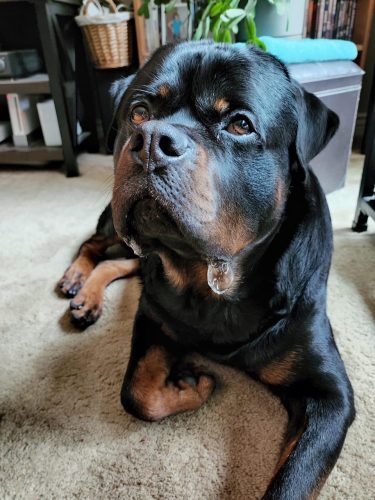 Von Marc's Live Long And Prosper  "Bubby"
Headmaster of the Short Bus Committee at Jen's workplace  🙂
Owned by Jen & Randy Herman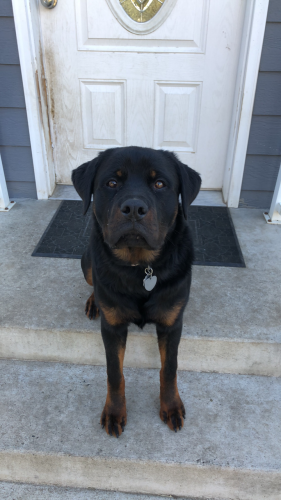 Von Marc's Let The Good Times Roll  "Gage"
Owned by Rob and Brandee Brooks
---
Von Marc's "P" Litter – Born October 8, 2020
Sire:   2021 ARC Select, Multi BIS/ Multi RBIS/Multi BISS/Multi BOSS, ARC Select, GCH-G Von Marc's Epic Ride v Birchcreek,
RA, FDC, DJ, CA, ATT, CGC, TKI

Dam:   GCH Von Wertz's Hoochie Coochie Hattie Von Marc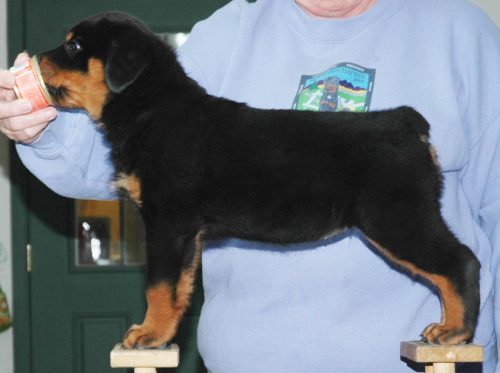 Von Marc's Peyton  "Peyton"
Owned by Steve and Tonya Yost
---
Von Marc's "O" Litter – Born April 23, 2021
Sire:   GCH. AOM DerHagen-N-Ivoss Can't Break Me, CGC
Dam:   Ch. Von Marc's I Wa­­nna Be Loved By You, CGC, TKN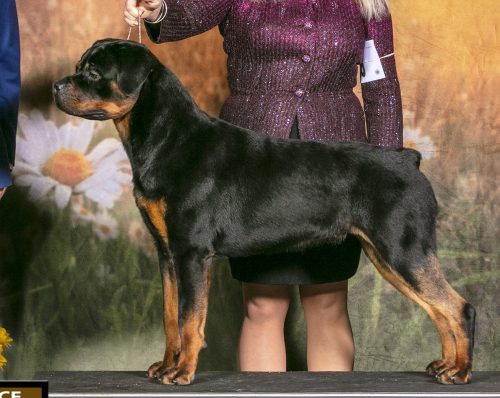 Von Marc's O Whatta Gal  "Sunnie"
First Three shows in 6-9 puppy class – 6 Points, WB/BOW and two Reserves!
Best Puppy In Specialty – ARC Region 1 Specialty, January 2022
1st – 2022 ARC Pre-National Regional Specialty 9-12 Sweeps Class (14 in class)
2nd – 2022 ARC National Specialty 9-12 Sweeps (14 in class)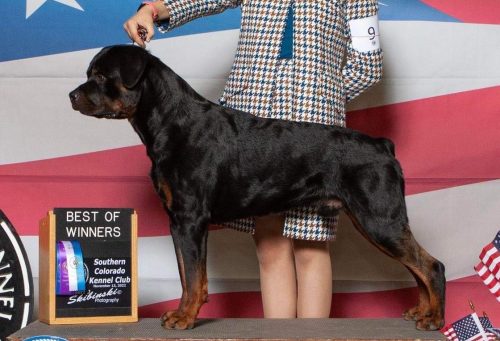 Von Marc's On Top Of The World, CGC, SWN, SCA, SIA  "Topi"
Needs one major to finish!
Owned by Cindy Boyd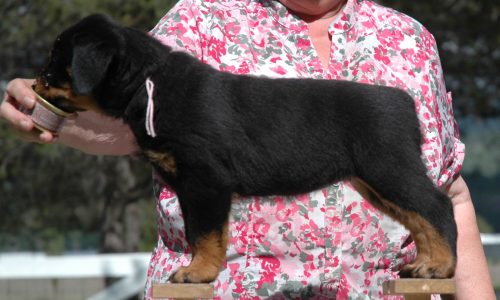 Von Marc's Optical Illusion  "Trix"
Owned by Greg & Sue Ann Wolf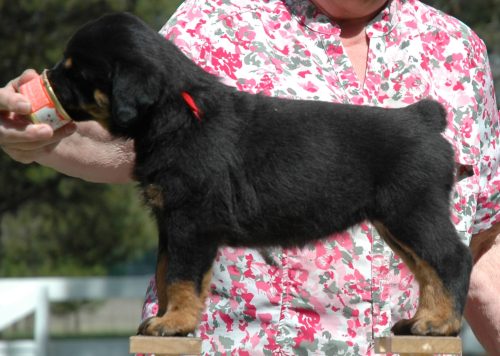 Von Marc's Open Your Heart  "Maddy"
Owned by Bill & Margaret Buehler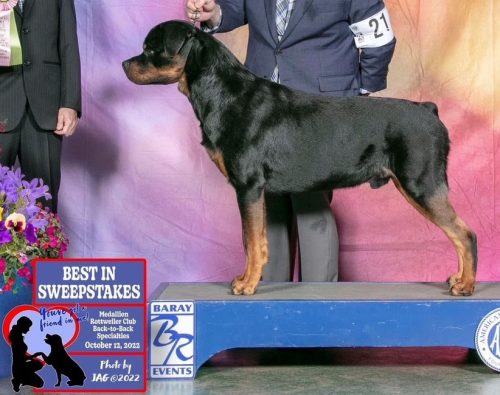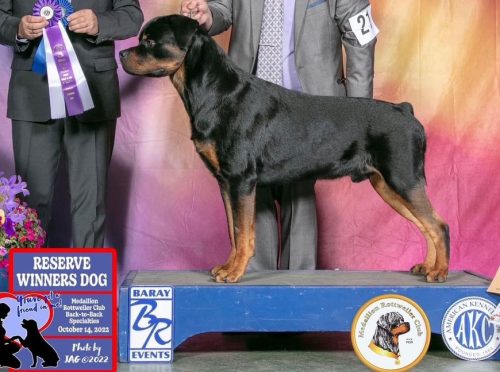 Von Marc's Outlaw Cowboy CGC, CGCA, TKN, TKI  "Dexter"
Owned by James & Billie Morgan
Best Puppy in Sweeps at the October 2022 Medallion Rottweiler  Club Specialty!
Reserve Winners Dog at MRC!
FLASH!!! – Dexter wins four 3 point majors ten days from the 12-18 classes!
Just one point needed to finish!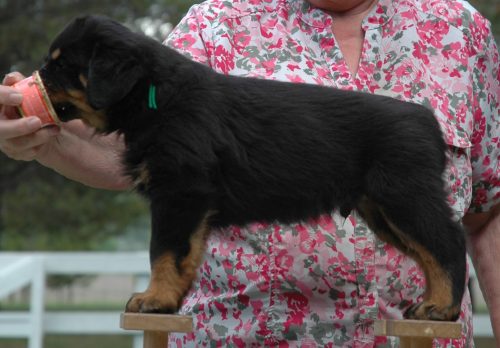 Von Marc's One Lucky Draw  "Lucky"
Owned by Bob & Dianna Hannigan
---
Von Marc's Moonstruck Star v Trilogy  "Molly" – Born May 28, 2021

Sire:   BIS Multi BISS GCHB Trilogy's Moment of Totality V Kindle, CA, TKN, UNJ, CGC
Dam:   VP-1 Von Marc's Shake, Rattle and Roll at Trilogy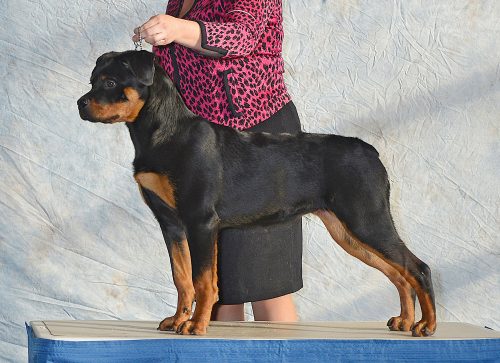 ---
Von Marc's Singleton – Born September 7, 2021

Sire:   2021 ARC Select, Multi BIS/ Multi RBIS/Multi BISS/Multi BOSS, GCH-G Von Marc's Epic Ride v Birch Creek,
RA, FDC, DJ, CA, ATT, CGC, TKI
Dam:   GCH Von Wertz's Hoochie Coochie Hattie Von Marc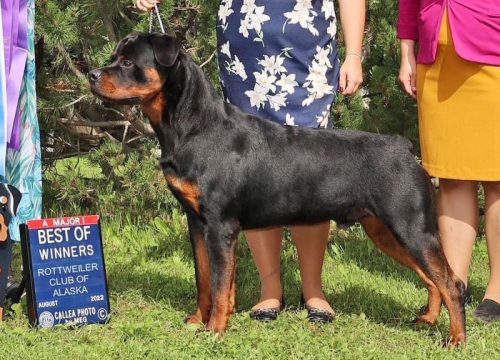 CH. Von Marc's Answer To No One v Birch Creek  "Echo"
Flash! – Five Majors in three weekends to finish from Bred By at 11 months!
Owned/Handled by Tanya Tresino, Sharon Marples and Harold Marples
---
 Von Marc's "P" Litter – Born December 9, 2021

Sire:   Multi Am/Can. BIS/Multi BISS Select Am/Can CH/GCH Ravenscrest The Alchemist, AOM, CD, RE, CI, HCS, HIC, TCI, CGC
ARC Silver Producer
Dam:   CH Von Marc's She's Got The Look v. Woodland, AOM, CS, RN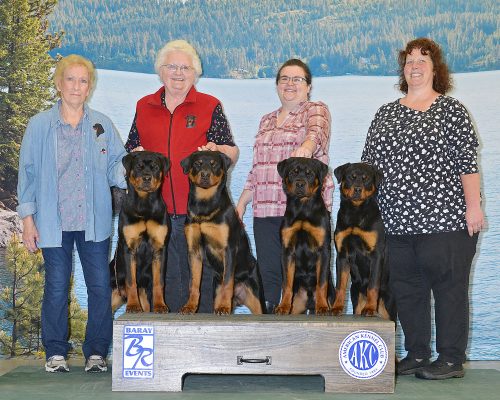 Left to right, Paisley, Apex, Duke and Prada at their very first show, May 2022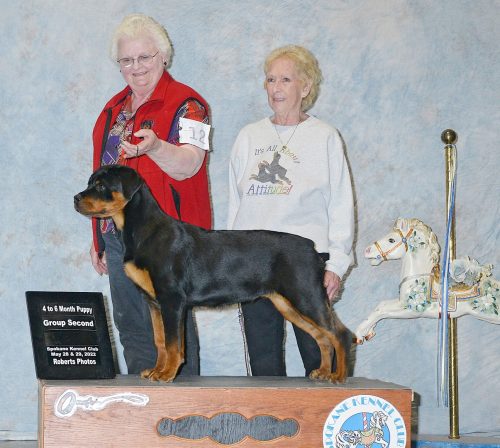 Von Marc's Purple Paisley v Di-Kar  "Paisley"
Group 2 – 4-6 Month Puppies
Owned by Diane Colvin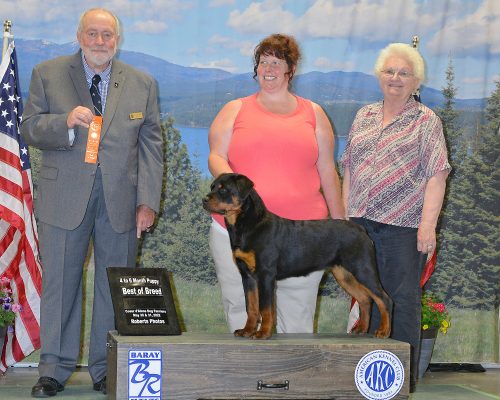 Von Marc's Poised Perfection v Kaniska  "Prada"
Owned by George & Naomi Kahn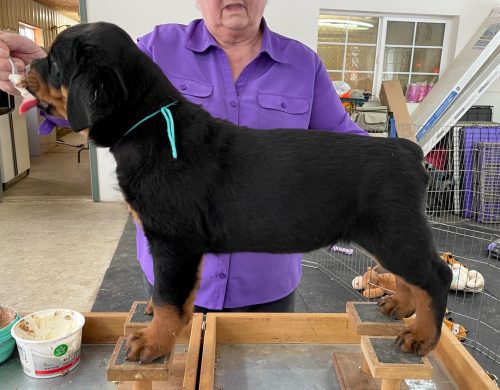 Can. CH Von Marc's Pacific Spirit of Ravenscrest  "Blue"
Both AKC majors from the 6-9 puppy class
Owned by Dave Cowan and Pam Boles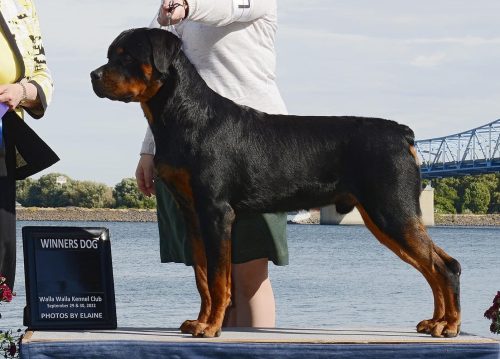 Von Marc's Put Up Your Dukes v Zahara  "Duke"
Pointed from the puppy classes!
Owned by Ashley & Karlyle Cummings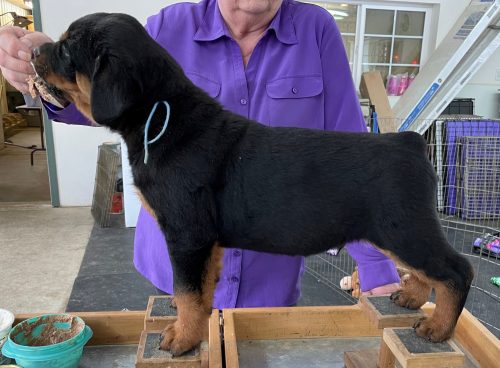 Von Marc's Playing For Keeps v Dalara  "UNO"
Owned by Leslie Morales

Von Marc's Pole Position, CGC  "Apex"
Flash!!! Back to back 3 point majors from the 6-9 puppy class in June, 2022!
Owned by Roger & Cindy Davis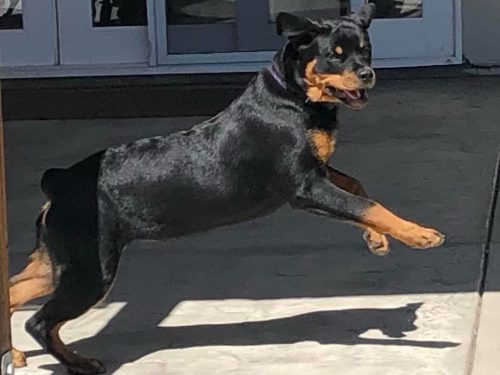 Von Marc's Picture Perfect  "Tori"
Owned by Denise & Bruce Funk
Vo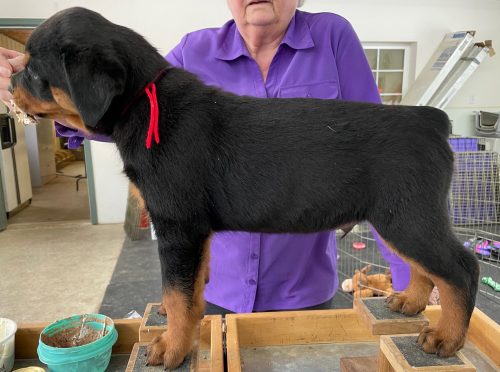 Von Marc's Permanently In The Red  "Guenter"
Owned by Jason & Renee McOmber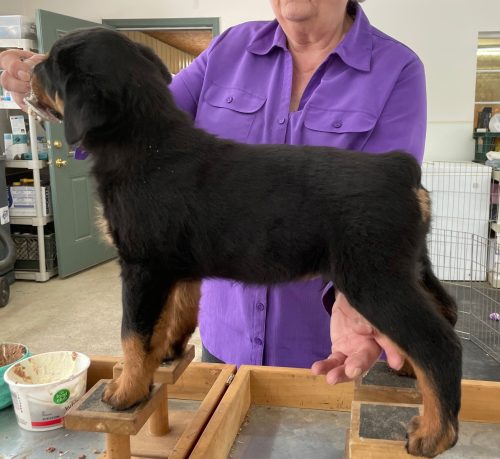 Von Marc's Prince Purple Rain v Grizzly  "Prince"
Owned by Elizabeth & John Strand
---
 Von Marc's "Q" Litter – Born July 17, 2022

Sire:   Multi Am/Can. BIS/Multi BISS Select Am/Can CH/GCH Ravenscrest The Alchemist, AOM, CD, RE, CI, HCS, HIC, TCI, CGC
ARC Silver Producer
Dam:   CH Von Marc's She's Got The Look v. Woodland, AOM, CS, RN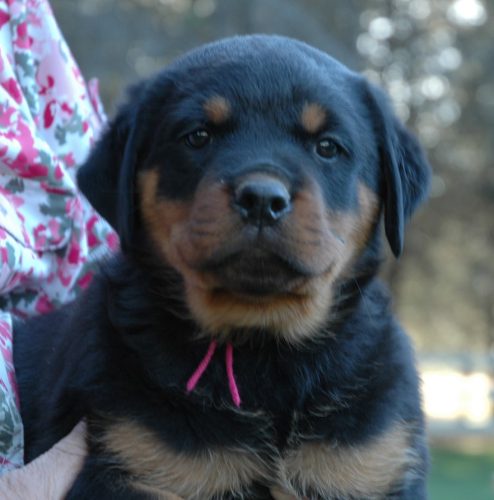 Von Marc's Quite The Catch For Von Hawes "Chase"
Owned by Kaye Vosskuil & Kathleen Hawes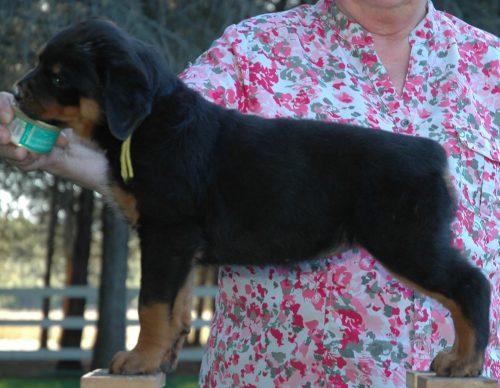 Von Marc's Quintessential Queen Of Breakers Glade "Atti"
Owned by GiGi Couch & Nicole Couch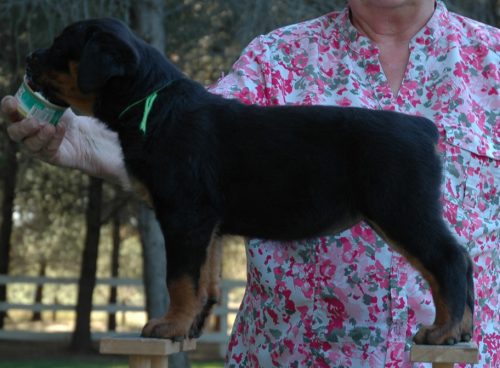 Woodland's Queen Of Magic Von Marc "Maggie"
Owned by Kathi Vigouroux

Von Marc's Quite The Looker For Stone Creek "Emma"
Owned by Dana & Pat Maroney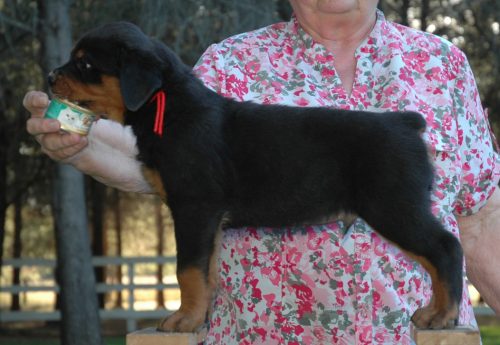 Von Marc's Quest Of Sitka "Sitka"
Owned by Sarah & Thomas Walden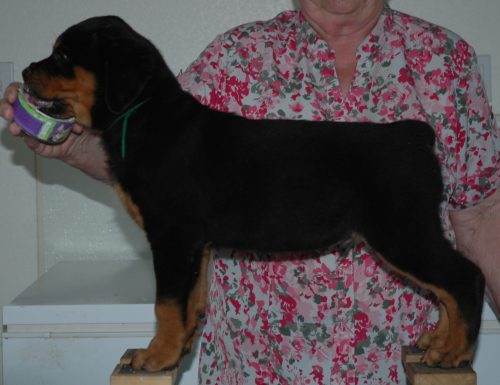 Von Marc's Quickstep "Swayze"
Owned by Lorri & Curt Kraft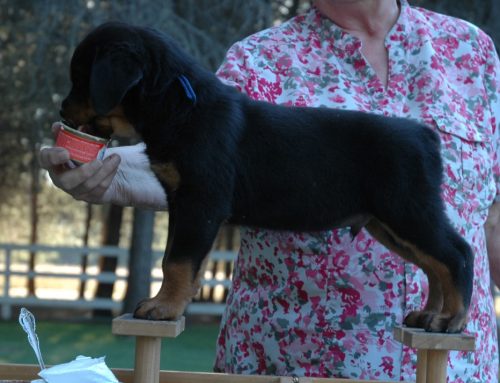 Von Marc's Quasar D "Atlas"
Owned by Dawn Dutelle